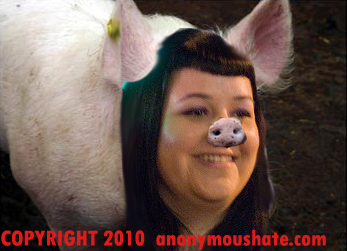 (Racist Cyberbully Sherrod DeGrippo)

As she does every year around this time, Sherrod DeGrippo is BEGGING for money on her forum:
http://forums.encyclopediadramatica.com/showthread.php?p=352180
Any of the miscreants and perverts who actually want to support that nasty website should know that money donated to ED can be used against them in crimes ranging from "aiding and abetting" to "funding criminal acts."
Every dollar donated to Encyclopedia Dramatica directly funds cyberbullying, pedophilia, and racism.

There are case laws which prove that one may be subject to asset forfeiture if ED is targeted under RICO federal law--a very likely possibility in the near future.
So if you want to support the website that hosts the "Nigger Manual," posts images of rape victims, and calls President Obama the "Half-Monkey In Chief," it's your business. I'm just letting you know that you're supporting a criminal enterprise.
Tom Newton
Cyberbullying Victims Advocate
RELATED:
More about Sherrod DeGrippo's Criminal Network:


http://josephevers.blogspot.com/p/encyclopedia-dramatica-administrators.html